POSTED ON January 13, 2020
We Need 2 New Bargaining Committee Members!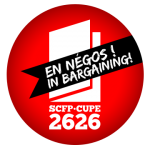 We need to elect two New Bargaining Committee Members. All members are welcome to present themselves for the position!  No previous experience required.
To run for the position, please come to the Stewards Council.
When: Friday, January 17, 2020
Time: 11:30 a.m.  – 1:00 p.m.
Where: FSS 4006
If you cannot attend, please follow our  election procedure:  send a letter of intent to the president at pres@2626.ca (with info@2626.ca in cc) before 11:59 p.m. on Thursday, January 16, 2020, with the following information:
Your name, employee number, and signature
Your phone number and email address
The title of the position you are running for (Bargaining Committee Members)
Your Degree of Functionality in both official languages (French and English)
The signature of five (5) members supporting your nomination (a member may nominate or support the nomination of only one person per position)
A document of one (1) page in length maximum (or two (2) pages if written in both official languages), in which you introduce yourself and present your electoral platform
For more information, email us at barg@2626.ca.
BACK TO ARCHIVES