POSTED ON February 12, 2020
It's my first General Assembly. What should I expect? 
General Assemblies are a great way to stay informed and get involved with your union. Our general assemblies happen twice a year: once in the fall and once in the winter. GA's are an opportunity for you to find out what's been going on within the union, to vote and run for paid positions, and since we are in Bargaining, to find out what's happening with Bargaining.
Our  next General Assembly will be taking place March 12 in FSS 4007 (see Facebook event). Registration starts at 17:30. If you haven't heard, we won't be at Cafe Nostalgia but in FSS 4007. There will be a shawarma buffet, a dessert table, and non-alcoholics drinks!
If it's your first GA, there isn't much you need to know or do. Ideally, you would fill out your Member in Good Standing Form prior to coming (for more information in regards to the Member in Good Stand Form see here). Otherwise, you just show up!  Registration starts at 17:30. You simply come to the door with a piece of identification; we will register you in and give you a voting card. If you're part of the first 50 to register, you'll get one of our sustainable, reusable food container (to take home any leftovers).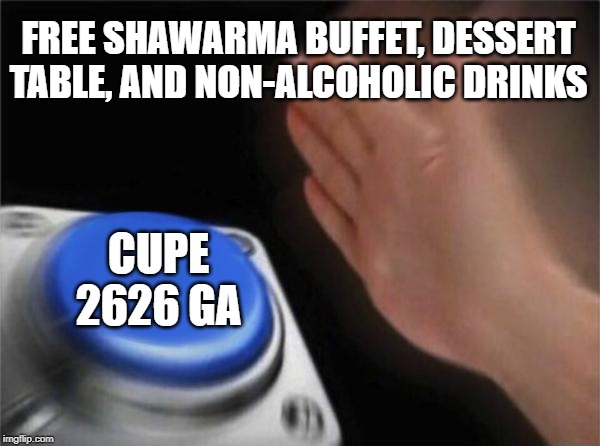 At this General Assembly, our President will give an update about what the union has been up to, our Vice-President will discuss issues related to the Grievance Comittee, then our Tresasurer will discuss the union  finances and the budget for the upcoming year! You then get to vote and approve the budget.  Next, you get to elect your Executive Board Members. You can also run for any of these positions (for more information, see here)! Once the elections are done, the President of the Bargaining Comittee will talk about what's been happening in Bargaining! Somewhere in all this, we will break for food! You can find the official agenda here.
If this is your first GA, it's normal to feel a little apprehensive and confused, but at any time you can ask someone from the CUPE 2626 team more information in regards to what is happening.
BACK TO ARCHIVES