POSTED ON April 25, 2018
$300 in Door Prizes at our  Special General Assembly & Party on May 3
Victory: Get Paid $200! Come to the Special General Assembly (SGA) for Details!
We had a great 2017-2018 academic year with many victories. Come out to the forthcoming SGA & 21st Anniversary Party to find out more. We're giving out two $150 gift certificates at Café Nostalgica for
The Department that brings out the most members;
The Department with the highest percentage of members in attendance (so if you come from a tiny department, your odds of winning are heightened in this category). Not to mention that everyone who comes out gets a free drink ticket and free food!
Our new 2018 Special General Assembly will take place on 
Thursday, May 3rd, 2018, at 4:30 p.m. at Café Nostalgica
. 
Registration opens at 4 p.m
.
 Please come out as we need 65 members to reach quorum! 
Here is the 
agenda
 and the minutes from our 2017 Fall GA (
to get up to speed on the debate to join CUPE Ontario
).
You'll be asked to ratify the new Executive Board members, the Collective Agreement between CUPE 2626 (Employer) and its staff members of Solidaria (the Union), as well as the Bylaw to amend the Defense Fund. Details 
here
.
Finally, we would like to apologize that we did not achieve quorum (65 people) at our April 3rd Annual General Assembly. There was a moment of confusion while we organized ourselves to keep the event going, but we promise our May 3rd meeting will run smoothly.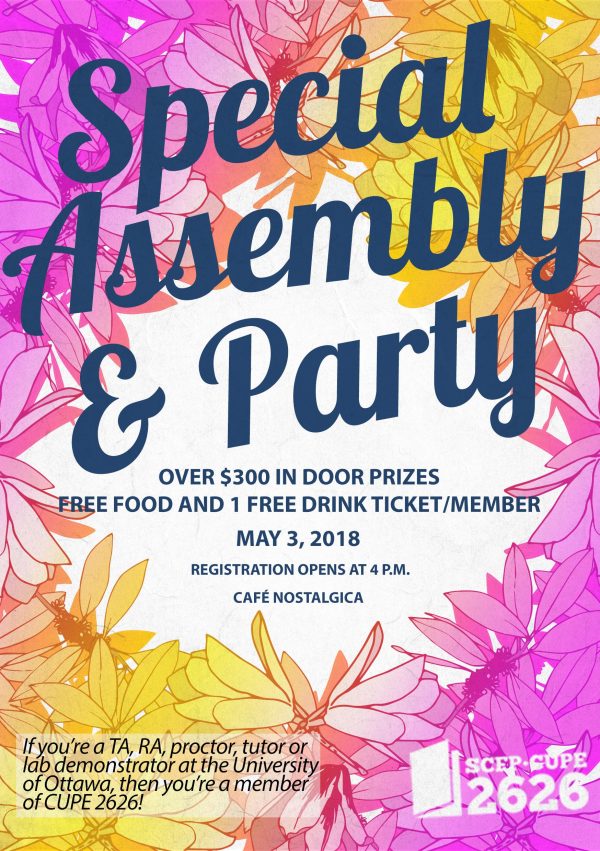 BACK TO ARCHIVES